A little about me… David Raines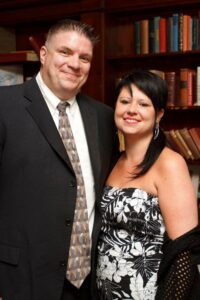 I grew up in the big city of Toronto! Coming from a family of two brothers and a sister and two parents who worked long hours to ensure that we had a solid roof over our heads and that we didn't go without during the special times of the year, Birthday's and Christmas' were always extra special.
From a young age I learned the value of team work through playing organized sports, I was fortunate enough to have my father coach me for some of those formative years, so I always got the extra "lessons" on the way to and from the games. At the time I don't think I appreciated those lessons as much as I do today.
My family had a mid-sized courier business as well, and from the time I was 12 years old I was learning the value of customer service as well as the courier business literally from the ground up! I carried on working through my teenage years pretty much every minute I wasn't in school. That was not an easy business to be in, but watching how my parents handled the day to day stress taught me yet another valuable lesson.
I went on to work some very interesting jobs in my career and have had the privilege of having some pretty great experiences and meeting lots of interesting people.
I am the father of two amazing boys, Tyler graduated from broadcasting school in Toronto and Michael is working is currently an assistant manager at Canadian Tire in Grand Falls. Michael has called Grand Falls home for the last 4 years and very much loves the area as much as I do.
I am also the Husband of a truly incredible woman, who I met when I moved to Grand Falls eight years ago. She is supportive of all that I am interested in and has encouraged me to take the step of seeking your support in re-election.
I am a believer in being involved in the community that I live in. While living in Toronto I was a volunteer with Victim Services in York Region, supporting people who were in crisis or suffered a tragedy and helping them cope and be able to move through the situation. I also volunteered with Youth Day Toronto, a one day festival focused on giving youth a platform to express themselves in a positive and creative way. Youth Day Toronto set many records in the years I spent with them including the largest group to do the "twist" and the greatest number of continuous set changes in a twelve-hour period.
Coming to Grand Falls, I had the opportunity to become involved with the Potato Festival; I have served as President for four years and as a liason and volunteer since being elected to council. This experience has been one of the best yet and I have been proud to work with a dedicated group of volunteers to bring the community some memorable festivals. This position has allowed me to use my network to bring artists such as Karl Wolf, Tyler Shaw as well as Big Wreck, Travis Cormier and crowd favourite Tristen Gressett who played both the Potato Festival and the Festival of Lights.
Working on the Potato Festival committee has also opened my eyes to opportunities that exist in Grand Falls. Those observations have led to the Coasters Car show, NB day celebration and the Fall Festival of Lights which saw the installation of the new LED lighting at the falls and gorge.  I have also learned to work with many levels of government, local business and various committees like the Downtown Business Association as well as the Chamber of Commerce. All of this experience has served me well to represent you and the rest of the residents of Grand Falls to work toward the changes we want to see and achieve a new municipality that is as vibrant and exciting as it once was.
I am excited to see the people in Grand Falls live their best lives, our children be loved, fed, and safe, and our seniors be served, cared for, and respected. I believe I can provide the leadership and vision to help make that happen.